This is the season and a year where we'll need Playful Stress Reducing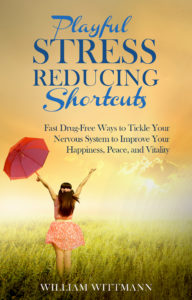 Shortcuts: Fast Drug-Free Ways to Tickle Your Nervous System to Improve Your Happiness, Peace, and Vitality.
My most recent publication will help you when you need it the most.
It's free NOW and my offer ends midnight Jan 4th, 2017 PST.
Grab your giveaway now.
Go for it => Playful Stress Reducing Shortcuts
May you be happy, wild, and free,
William
P.S. As the book is brand new, it has no reviews at this moment.  I would love some stellar reviews.  Go for it.  Please and thank you.