I read that the Japanese have 22 seasons.  I don't care if it's true – I adopted it.  I suggest you do as well.  Not 22 seasons, but look into your heart and see what seasonal elements touch you.  It's a way to recover and feel into places you love.
For example: You may be familiar with the poignantly brief Cherry Blossom Time and how the Japanese celebrate it.
Every day I walk through beautiful places.  As I write this, I am enjoying Dogwood season.  As I walk by the lavenders in Lavender season, I caress the flowers to leave their scent on my hands.  Jasmine season's blooms perfume my day – I have three plantings that I include on my daily walks.  I stop and smell the roses.  Fall Leaf season will come too soon with its melancholy serenity and majesty.
I identified my – Taiji in the Dark, Cold and Rainy season – by noticing I was feeling sad that it would be ending soon.  I practice Taiji by the bay in the early morning dark of rainy winter, bundled up and cozy, looking at the calm lights of the Seattle skyline.  I wouldn't have guessed.
My friend, Diana, loves Hay season – that's when she harvests the hay from her prairie.  (I used to suffer during Lawn Mowing season and Hay Fever season.)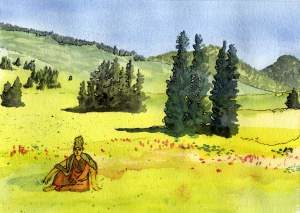 The road to my favorite section of Mt. Rainier National Park, Sunrise, opens from mid July to mid October.  The rest of the year it's buried in snow.  This is perhaps my favorite season.  It's a subset of Hiking season.
Lastly, part of your intimacy with life can come from the seasons you dread.  My least favorite season –
The Incessant Feeding Complaints season of baby crows – feed me, FEED ME, FEED ME… irritates me.  The season goes on F O R E V E R.  And then it's over.  Woof.
In Ohio, it might be Mosquito season.  Snow?  Cold?   Who cares?  No mosquitoes.  Yeah.
More examples:
The season of my beloved wife, Suzanne, Telling Me About the Juncos Nesting in the Window Boxes season.
Gosling season by the lake and by the bay.
Eating Breakfast While Watching First Light Sweep Over the Summer Bay season.
Drawing Outdoors season.
Biking season.
Wading in the Tide Pools season.
When I was a kid, the sports seasons were very important.  Hockey on the Ten Mile Creek season was all too brief.  One of my friends journeys to spring training in Arizona every year for Spring Training season.
Deepen Your Intimacy
Ask your loved ones what their seasons are.    You may be surprised.
Suzanne has these seasons:
Starting out in childhood, I had bike riding season since I did not ride in the snow.  But I would ride in warm summer rains.  While we lived on Reynolds road, there was pool cleaning season.  This season lasted about a week in June.  (She told me of freeing a trapped weasel one year as part of the process.)
In Ohio, there was Bare Tree season when you saw things you couldn't see when the trees were in leaf.  I also liked the usuals of robins in the spring, cardinals in the snow.  I did like singing frog season on Heverlo Road.
In Washington, I have the season of warm sunny weekend days with the many people walking, biking, rollerblading, skate boarding at the shore.
Also, July 4th and New Years Eve with the crazy drivers who come to look at the fireworks from Alki Beach.
There is May and October when William is likely to plan an out of town trip.
The season when the sky and the water are the same color of grey.
Seasons for Zoe and Kevin Hipp – Daughter and Son in Law
I was curious about the seasons that they found after having lived in Hawaii for awhile so I asked them.
Zoe says:
One would naturally think that Hawaii does not have seasons, it's always warm so why would there be.
I have been noticing different flowers coming out of winter dormancy, first the leaves and then flowers and then fruit, with it all, come the smells of the many different flowers.
I've been wondering about the different migrations and mating cycles of the birds, including the Turkey's.  (Feral turkeys wander through their backyard.)
The flock of nine turkeys has dwindled down to 1, 2, or 3 and weeks go by when they are not seen on my block.
I just noticed one of the little yellow birds in my lawn the other morning and that was the first one since I have been here.
Every Wednesday is Cruise Ship season, but for about 3 weeks in February or April it does not come.
Then there are the tourists. They flock at different times – Whale season, spring break seems to last forever since they do not fall all at once all over the world, the snow birds (part time residents) are currently leaving except for the ones that live in extremely hot climates (Arizona for example, they come here to cool off), the many triathlons and marathons bring people that come and go and then the big one in October –The Ironman World Championship.
Kevin, a dive master, says – The only Season that comes to mind right now is Whale season between November and April. Not only is it cool to see whales breaching every day on our boat ride to the manta site but to be diving with the manta rays and hearing the male whales doing their songs underwater while watching manta rays dance is magical.
Sasha's Seasons – some short some long, some overlap
Lupines on Mt. Rainier season

Sasha's Lupines at Sunrise by William

Summer Thunderstorms in Eastern Washington season where I get to smell petrichor. (Seattle doesn't have thunderstorms, so this is new to her.)  Petrichor is a new word for me, but I feel sure you know the experience – Petrichor is the earthy scent produced when rain falls on dry soil. The word is constructed from Greek, petra, meaning "stone", and ichor, the fluid that flows in the veins of the gods in Greek mythology.
Shedding Out the Horse season – not a current season.
Mud at the Barn season (long damn season)
Warm Enough to Leave Window Open at Night to Feel the Breeze season
Paradise Shoulder season at Mt. Rainier N. P. when the road to Sunrise isn't open.
Moscow Pepper seller season (all too brief pepper season at the farmers' market in Moscow ID).
Sasha's thunderstorms remind me of a family story that points to love of place.  When we were planning to move Seattle, Suzanne said, "William, they don't have thunderstorms.  Or lightning bugs.  Or cardinals.  What are you thinking?"  All of those things reflect places we loved in Ohio.
Do I have 22 seasons?  Who cares?  I am always in a season I love and looking forward to another season I love.  All this love helps me to feel at home all the time.  You can too.
Uncover the seasons you love.  Each will inform your love of place and help you to find home.